1951 Down Place #058 – The Lost Continent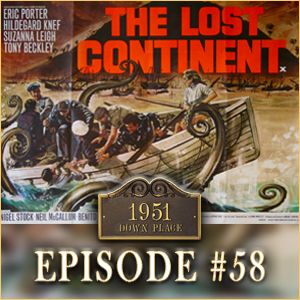 No one would blame you if you thought this podcast and these podcasters somehow got . . . um . . . lost on a lost continent, but the truth is much more mundane. You'll hear about that, and the film The Lost Continent (dir. Michael Carreras, Leslie Norman), in this episode. It's the triumphant return of 1951 Down Place, and two-thirds of the Down Placers!
Download 1951 Down Place: Episode #058 here!
Voicemail: 765-203-1951
Email: podcast@1951downplace.com
Twitter: http://twitter.com/1951DownPlace
Facebook Group: http://tinyurl.com/downplacegroup
Carefree Kevin MacLeod (incompetech.com)
Licensed under Creative Commons: By Attribution 3.0 License
http://creativecommons.org/licenses/by/3.0/
All original content is licensed under a Creative Commons Attribution-NonCommercial-NoDerivs 3.0 Unported License.
Citations available upon request.