1951 Down Place #051 – The House That Bled to Death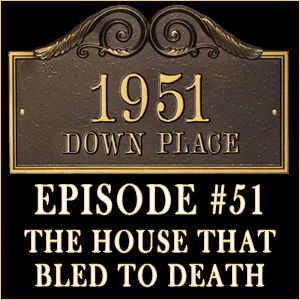 42 Coleman Rd. Beautiful home with colorful history and good plumbing. Friendly neighborhood. Dining room ideal for birthday parties. Safe for pets.
The British television station Channel 4 lists a moment from this television episode in their 100 Scariest Moments show (it came in at #50), and this month, we'll see how the Down Placers rank "The House That Bled to Death" from the series Hammer House of Horror among Hammer's movie output. Also, the guys go over some listener feedback, and eventually veer so off-topic that they end up talking about . . . Universal?
Download 1951 Down Place: Episode #051 here!
Voicemail: 765-203-1951
Email: podcast@1951downplace.com
Twitter: http://twitter.com/1951DownPlace
Facebook Group: http://tinyurl.com/downplacegroup
All original content is licensed under a Creative Commons Attribution-NonCommercial-NoDerivs 3.0 Unported License.
Intro by: Scott
Plot Synopsis: Derek
Episode Producer: Casey and Derek
Citations available upon request.