Episode #010 – She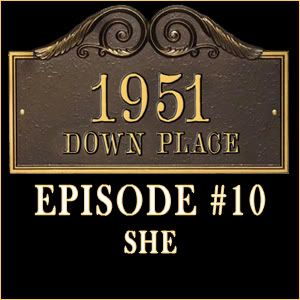 She who must be obeyed has commanded the Down Placers to tackle the 1965-film She (dir. Robert Day), and who are they to argue with She?  Based on the classic adventure novel She by H. Rider Haggard, Hammer Films' version of the story pits Down Place favorite Peter Cushing and company against the dubbed Ursula Andress and her minions (including Christopher Lee in a magnificent skullcap).  After discussing the film, Casey, Derek and Scott unveil the rest of the 1951 Down Place schedule throughout the backhalf of 2012.
Download 1951 Down Place: Episode #010 here!
Voicemail: 765-203-1951
Email: podcast@1951downplace.com
Twitter: http://twitter.com/1951DownPlace
Facebook Group: http://tinyurl.com/downplacegroup
This work is licensed under a Creative Commons Attribution-NonCommercial-NoDerivs 3.0 Unported License.
Works Cited
Davies, Glen, comp. Last Bus to Bray: The Unfilmed Hammer – Volume One: The Glory Years 1950-1970. Des Mooines, IA: Little Shoppe of Horrors Magazine, 2010. Print.
Hallenbeck, Bruce G. British Cult Cinema: Hammer Fantasy & Sci-Fi. Bristol: Hemlock Books, 2011. Print.
Hearn, Marcus. Hammer Glamour. London: Titan Books, 2009. Print.
Johnson, Tom, and Deborah Del Vecchio. Hammer Films: An Exhaustive Filmography. Reprint. Jefferson, NC: McFarland & Company, Inc., 2012. Print.
Kinsey, Wayne. Hammer Films: The Unsung Heroes: The Team Behind the Legend. Sheffield, England: Tomahawk Press, 2010. Print.
Larson, Randall D. Music From the House of Hammer: Music in the Hammer Horror Films 1950-1980. Lanam, MD: The Scarecrow Press, Inc., 1996. Print.
"Rewind @ www.dvdcompare.net – She (1965)." rewind @ www.dvdcompare.net – the home of dvd & blu-ray comparisons. 11 Nov 2010. Web. 29 Jun 2012.
She. Dir. Robert Day.  Perf. Ursula Andress, Peter Cushing, Bernard Cribbins, John Richardson . MGM, 2009. DVD.
"She (1965) – IMDb." The Internet Movie Database. 28 Aug 2010. Web. 29 Jun 2012.
She Exhibitor's Campaign Book from MGM.  1965.