Episode #009 – The Old Dark House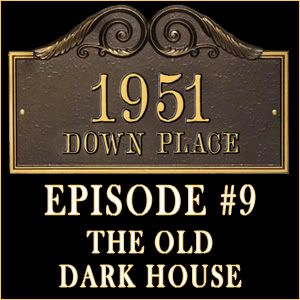 James Whale took a crack at adapting the 1927 J. B. Priestley novel Benighted for Universal in 1932. In 1963, Hammer Films and William Castle made their own attempt at adapting the novel. In 2012, the Down Placers take their turn at discussing the film that would become Hammer's The Old Dark House. What is Tom Poston doing in a Hammer film? Does William Castle find a way to bring his own style to a film studio that, by 1963, had completely established its own identity for film viewers around the world?  And what movie won the listener poll and will be covered in the July episode of 1951 Down Place?
Download 1951 Down Place: Episode #009 here!
Voicemail: 765-203-1951
Email: podcast@1951downplace.com
Twitter: http://twitter.com/1951DownPlace
Facebook Group: http://tinyurl.com/downplacegroup
This work is licensed under a Creative Commons Attribution-NonCommercial-NoDerivs 3.0 Unported License.
The B-Movie Cast: http://bmoviecast.com/
Works Cited
Hearn, Marcus. Hammer Glamour. London: Titan Books, 2009. Print.
Hearn, Marcus, and Alan Barnes. The Hammer Story: The Authorised History of Hammer Films. Revised. London: Titan Books, 2007.
The Horror of Hammer.  Image Entertainment, 2001.  DVD.
Johnson, Tom, and Deborah Del Vecchio. Hammer Films: An Exhaustive Filmography. Reprint. Jefferson, NC: McFarland & Company, Inc., 2012. Print.
Maxford, Howard. Hammer, House of Horror: Behind the Screams. New York City, NY: The Overlook Press, 1996. Print.
Morley, Margaret.  Larger Than Life: The Biography of Robert Morley. London: Robson Books, 1979. Print.
The Old Dark House.  Dir. William Castle. Perf. Tom Poston, Robert Morley and Janette Scott.  Sony Pictures, 2009.  DVD.