1951 Down Place #057 – The Horror of Frankenstein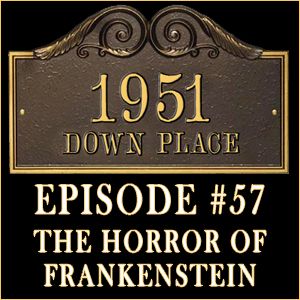 The Down Placers may have suffered a minor reboot of their own as they tackle Hammer's attempt at rebooting their Frankenstein franchise in 1970's The Horror of Frankenstein (dir. Jimmy Sangster). Does this new take on the material live up to the Cushing-dripping goodness of the previous films? Listen . . . and find out!
(Thank you for everyone's patience as this episode made its way through post-production. The "day jobs" of your hosts took up a lot more time than normal these past few months – Casey got a new job, Scott is on a mini-vacation, and Derek is stuck in a pair of pants. We're working on getting back on track, and you can expect Episode #58 discussing 1954's The Unholy Four (dir. Terence Fisher) in about a week.)
Download 1951 Down Place: Episode #057 here!
Voicemail: 765-203-1951
Email: podcast@1951downplace.com
Twitter: http://twitter.com/1951DownPlace
Facebook Group: http://tinyurl.com/downplacegroup
All original content is licensed under a Creative Commons Attribution-NonCommercial-NoDerivs 3.0 Unported License.
Intro by: "Scott"
Plot Synopsis: Derek
Episode Producer: Casey
Citations available upon request.