1951 Down Place #055 – The Two Faces of Dr. Jekyll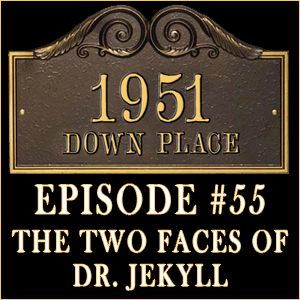 Terence Fisher was a busy man for Hammer in the 1960s. A total of ten Hammer films were released bearing the name Terence Fisher, and one of those movies was The Two Faces of Dr. Jekyll. Casey, Derek, and Scott take a crack at looking at both sides of this film while keeping their repressed evil sides at bay.
Download 1951 Down Place: Episode #055 here!
Voicemail: 765-203-1951
Email: podcast@1951downplace.com
Twitter: http://twitter.com/1951DownPlace
Facebook Group: http://tinyurl.com/downplacegroup
All original content is licensed under a Creative Commons Attribution-NonCommercial-NoDerivs 3.0 Unported License.
Intro by: Derek
Plot Synopsis: Scott
Episode Producer: Derek
Citations available upon request.
RIP Vince Rotolo