1951 Down Place #050 – Phantom Ship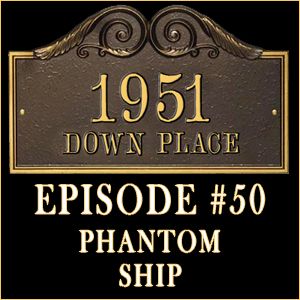 Just sit right back
And you'll hear a tale
A tale of a famous trip,
That started from a New York port,
Aboard a sailing ship.
The mate was a mighty creepy lad,
The Skipper just was wed
A small crew set sail that day,
on a trip full of dread,
a trip full of dread.
The film print started getting rough,
our heroes lunch was tossed.
If not for the acting of our shining star
This hammer film would be lost
This hammer film would be lost.
The ship was adrift away for shore
near some uncharted isle
With Bela Lugosi
Arthur Margetson too.
Shirley Grey
and Edmund Willard
Dennis Hoey
all directed by Denison Clift
On the Phantom Ship
No Lee! No Reed! No Peter Cushing
Just Bela Lugosi
Like a silent film
It's primitive as can be.
So join us here this month my friends,
To put a smile upon your face,
From Casey, Derek and Scott
Here on 1951 Down Place!
Download 1951 Down Place: Episode #050 here!
Back In the Village: The Prisoner Podcast
Voicemail: 765-203-1951
Email: podcast@1951downplace.com
Twitter: http://twitter.com/1951DownPlace
Facebook Group: http://tinyurl.com/downplacegroup
All original content is licensed under a Creative Commons Attribution-NonCommercial-NoDerivs 3.0 Unported License.
Intro by: Derek
Plot Synopsis: Casey
Episode Producer: Scott
Citations available upon request.