1951 Down Place #049 – Dracula Has Risen from the Grave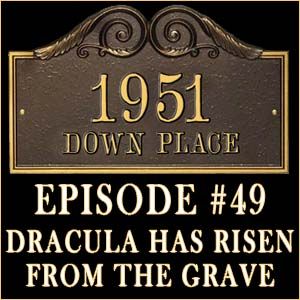 Happy Halloween! This month, the Down Placers get down with Dracula as they take a look at 1968's Dracula Has Risen from the Grave. Director Freddie Francis said he wanted this film to be "visually interesting and exciting as opposed to just expect the audience to go along and see the same old Dracula." Did he succeed? Find out when you listen to this episode of 1951 Down Place!
Download 1951 Down Place: Episode #049 here!
Voicemail: 765-203-1951
Email: podcast@1951downplace.com
Twitter: http://twitter.com/1951DownPlace
Facebook Group: http://tinyurl.com/downplacegroup
All original content is licensed under a Creative Commons Attribution-NonCommercial-NoDerivs 3.0 Unported License.
Intro by: Casey
Plot Synopsis: Scott
Episode Producer: Derek
Citations available upon request.