1951 Down Place #047 – Straight on Till Morning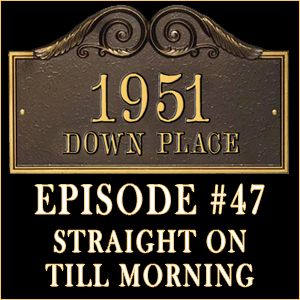 All this has happened before, and it will all happen again. But this time it happened in London. It happened on a quiet street named Down Place. That corner house over there is the home of the Podcast family. And Peter Clive chose this particular house because there were people here who were ugly to him.
Our story begins with Casey, Derek and Scott watching the 1972 Hammer film Straight On Till Morning directed by Peter Collinson. As our brave podcasters learn about the wicked Peter Clive, will they be deemed too beautiful by the beast and live happily every after or will they meet the same fate at Tinker?
Download 1951 Down Place: Episode #047 here!
Straight on Till Morning Trailer

Saint Euphoria – The Online Home of the Films of Christopher R. Mihm
Voicemail: 765-203-1951
Email: podcast@1951downplace.com
Twitter: http://twitter.com/1951DownPlace
Facebook Group: http://tinyurl.com/downplacegroup
All original content is licensed under a Creative Commons Attribution-NonCommercial-NoDerivs 3.0 Unported License.
Intro by: Derek
Plot Synopsis: Casey
Episode Producer: Scott
Citations available upon request.