1951 Down Place #046 – The Vengeance of She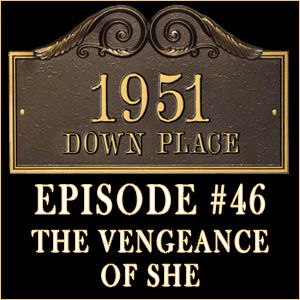 It's Listener Pick Month here at 1951 Down Place! The year, most of the listeners REALLY wanted us to discuss 1968's The Vengeance of She
(dir. Cliff Owen). Casey, Derek, and Scott do their best to stay out of the eternal flame while tackling this one. The gang previously discussed She in 2012 in Episode #10, and if you remember, they weren't TOO fond of it. Do the Down Placers have the same feelings about The Vengeance of She?
Download 1951 Down Place: Episode #046 here!
The Vengeance of She Trailer

Voicemail: 765-203-1951
Email: podcast@1951downplace.com
Twitter: http://twitter.com/1951DownPlace
Facebook Group: http://tinyurl.com/downplacegroup
All original content is licensed under a Creative Commons Attribution-NonCommercial-NoDerivs 3.0 Unported License.
Intro by: Casey
Plot Synopsis: Scott
Episode Producer: Derek
Citations available upon request.