1951 Down Place #045 – Rasputin: The Mad Monk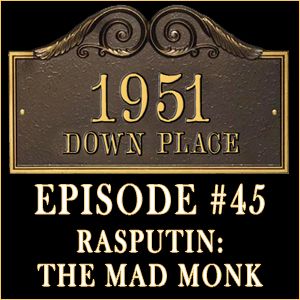 Torn from the pages of history – the truth about the man who turned men into killers and women into animals! Well, maybe not directly from the pages of history, but from Hammer comes 1966's Rasputin: The Mad Monk starring Sir Christopher Lee, Barbara Shelley and Richard Pasco. The film was directed by Don Sharp and written by Anthony Hinds.
Here at 1951 Down Place we chose this film to honor the passing of the great Sir Christopher Lee. Along the way, Casey, Derek and Scott will talk about what Mr. Lee means to them and to the entertainment world as they discuss their first viewing of the Mad Monk's sermon. Do they think this film is a small sin or is it a sin worth forgiving? Find out in this episode!
Note: The film originally scheduled for June 2015, Curse of the Mummy's Tomb will be featured on a future episode of 1951 Down Place.
Download 1951 Down Place: Episode #045 here!
Rasputin: The Mad Monk Trailer

Voicemail: 765-203-1951
Email: podcast@1951downplace.com
Twitter: http://twitter.com/1951DownPlace
Facebook Group: http://tinyurl.com/downplacegroup
All original content is licensed under a Creative Commons Attribution-NonCommercial-NoDerivs 3.0 Unported License.
Intro by: Scott
Plot Synopsis: Derek
Episode Producer: Casey
Citations available upon request.