1951 Down Place #044 – Frankenstein Must be Destroyed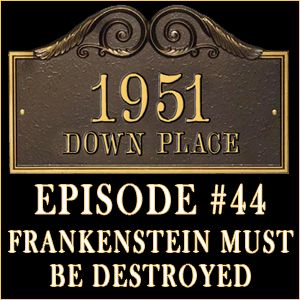 Driven straight out of Bohemia and into this month's episode of 1951 Down Place, it's the one, the only Baron Frankenstein. This time for the 1969 Hammer classic,
Frankenstein Must be Destroyed starring Peter Cushing, Veronica Carlson, Freddie Jones, Simon Ward and Thorley Walters. In the director's chair we find Terence Fisher at the helm of this adventure. Do Casey, Derek and Scott beleive that the good doctor should be destroyed? Well, it depends on the cut of the film you are watching!
Download 1951 Down Place: Episode #044 here!
Frankenstein Must be Destroyed Trailer

Voicemail: 765-203-1951
Email: podcast@1951downplace.com
Twitter: http://twitter.com/1951DownPlace
Facebook Group: http://tinyurl.com/downplacegroup
All original content is licensed under a Creative Commons Attribution-NonCommercial-NoDerivs 3.0 Unported License.
Intro by: Derek
Plot Synopsis: Casey
Episode Producer: Scott
Citations available upon request.