1951 Down Place #043 – Die! Die! My Darling!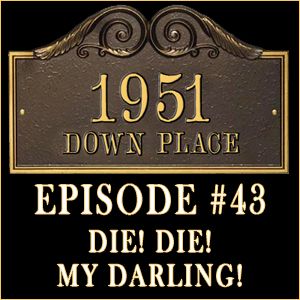 Wipe the lipstick off your face and check out the latest episode of 1951 Down Place! This month, the Down Placers take a look at the 1965 film Die! Die! My Darling! (dir. Silvio Narizzano) all while hoping they can avoid Mrs. Trefoile.
(And don't call me "darling.")
Download 1951 Down Place: Episode #043 here!
Die! Die! My Darling! Trailer

Voicemail: 765-203-1951
Email: podcast@1951downplace.com
Twitter: http://twitter.com/1951DownPlace
Facebook Group: http://tinyurl.com/downplacegroup
All original content is licensed under a Creative Commons Attribution-NonCommercial-NoDerivs 3.0 Unported License.
Intro by: Casey
Plot Synopsis: Scott
Episode Producer: Derek
Citations available upon request.