1951 Down Place #042 – Vampire Circus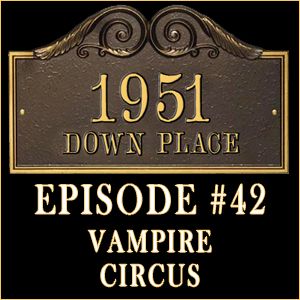 Ladies and Gentlemen! May I direct your attention to the center ring where the Courageous Casey, the Death Defying Derek and So-So Scott are poised to tame the tiger lady as they take on 1972's Vampire Circus (directed by Robert Young).
Listen to find out if they survive the encounter!
Download 1951 Down Place: Episode #042 here!
Vampire Circus Trailer

Voicemail: 765-203-1951
Email: podcast@1951downplace.com
Twitter: http://twitter.com/1951DownPlace
Facebook Group: http://tinyurl.com/downplacegroup
All original content is licensed under a Creative Commons Attribution-NonCommercial-NoDerivs 3.0 Unported License.
Intro by: Scott
Episode Producer: Casey
Citations available upon request.