1951 Down Place #041 – Bad Blonde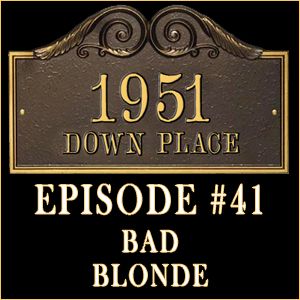 It's time for the Down Placers to take a gander at another "Hammer Noir". This time it's 1953's Bad Blonde (directed by Reginald Le Borg). Do the gentlemen of Down Place prefer this blonde and how far did one of them go to actually become a "bad blonde"? It's time to touch up the roots as Casey, Derek and Scott find out if "bad blondes" have even more fun!
Download 1951 Down Place: Episode #041 here!
Bad Blonde Trailer

Voicemail: 765-203-1951
Email: podcast@1951downplace.com
Twitter: http://twitter.com/1951DownPlace
Facebook Group: http://tinyurl.com/downplacegroup
All original content is licensed under a Creative Commons Attribution-NonCommercial-NoDerivs 3.0 Unported License.
Intro by: Derek
Episode Producer: Scott
Citations available upon request.