1951 Down Place #040 – The Phantom of the Opera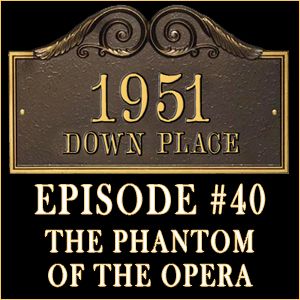 For Derek's birthday pick, he selected the 1962 film The Phantom of the Opera (dir. Terence Fisher). It might be hard to believe, but when this film was released, there had only been a few film adaptations of the classic Gaston Leroux novel, so Hammer had a wide open playing field in regards to what they could bring to the table. Was the studio successful? We'll find out as Casey, Derek, and Scott tackle this film.
Download 1951 Down Place: Episode #040 here!
Voicemail: 765-203-1951
Email: podcast@1951downplace.com
Twitter: http://twitter.com/1951DownPlace
Facebook Group: http://tinyurl.com/downplacegroup
All original content is licensed under a Creative Commons Attribution-NonCommercial-NoDerivs 3.0 Unported License.
Intro by: Casey
Episode Producer: Derek
Citations available upon request.