1951 Down Place #039 – Quatermass and the Pit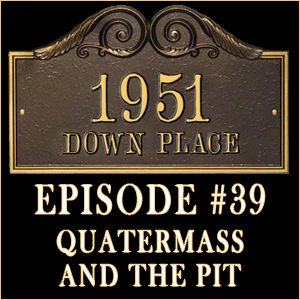 It's a very special time here at 1951 Down Place central as our intern Scott has celebrated another birthday this month. To honor this event, we've allowed Scott to pick the film to cover this month. Things are not quite what they seem as Scott's choice shook the very foundations of 1951 Down Place.
Listen to this episode to find out if Derek and Casey can survive the shock to their system and triumph or will this film choice wreak its vengeance on the poor unfortunate souls who are forced to talk about it.
Download 1951 Down Place: Episode #039 here!
Voicemail: 765-203-1951
Email: podcast@1951downplace.com
Twitter: http://twitter.com/1951DownPlace
Facebook Group: http://tinyurl.com/downplacegroup
All original content is licensed under a Creative Commons Attribution-NonCommercial-NoDerivs 3.0 Unported License.
Intro by: Scott
Episode Producer: Casey
Citations available upon request.