1951 Down Place #038 – Curse of the Werewolf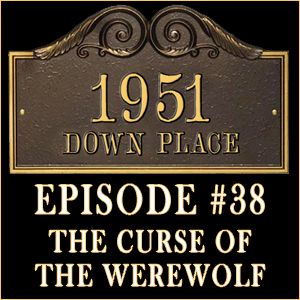 We saw a werewolf with a Spanish menu in his hand
Walking through the streets of Madrid in the rain
He was looking for a place called Chica Bonita
Going to get a big dish of Pulpo á feira
Werewolves of España!

Well, it's just one werewolf we saw this month, but what a werewolf! It's Oliver Reed in Hammer's 1961 film The Curse of the Werewolf (directed by Terence Fisher). Joining Oliver Reed in the cast is Clifford Evans, Yvonne Romain and 1951 Down Place favorite Michael Ripper.
Listen to find out if Derek, Casey and Scott get their lungs ripped out or enjoy a whiskey at Trader Vic's while watching? Why whiskey? we don't believe Oliver Reed would waste his time on piña coladas!
Download 1951 Down Place: Episode #038 here!
Voicemail: 765-203-1951
Email: podcast@1951downplace.com
Twitter: http://twitter.com/1951DownPlace
Facebook Group: http://tinyurl.com/downplacegroup
All original content is licensed under a Creative Commons Attribution-NonCommercial-NoDerivs 3.0 Unported License.
Intro by: Derek
Episode Producer: Scott
Citations available upon request.