1951 Down Place #031 – Feedback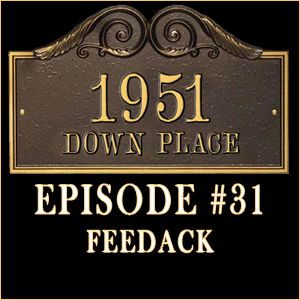 While the cat is away the mice will . . . cover feedback? In this month's episode of 1951 Down Place, Casey and Scott cover the built up backlog of listener feedback while Derek takes care of some family business.
Vote for 1951 Down Place in the 12th Annual Rondo Awards – http://rondoaward.com/rondoaward.com/blog/?p=32 – in the Best Multimedia Horror category (number 23).
Download 1951 Down Place: Episode #031 here!
Voicemail: 765-203-1951
Email: podcast@1951downplace.com
Twitter: http://twitter.com/1951DownPlace
Facebook Group: http://tinyurl.com/downplacegroup
All original content is licensed under a Creative Commons Attribution-NonCommercial-NoDerivs 3.0 Unported License.
Citations available upon request.