1951 Down Place #028 – Cash on Demand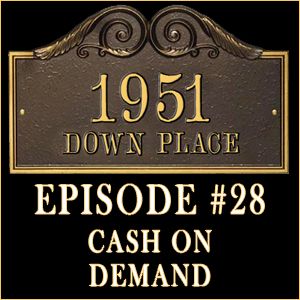 André Morell wants 97,000 pounds for Christmas. Does Father Christmas have him on the naughty or nice list? Check in with the Down Placers this month to find out! This month, Casey, Derek, and Scott take a look at the André Morell-Peter Cushing vehicle Cash on Demand (dir. Quentin Lawrence). This suspenseful Hammer film takes place just before Christmas, so we thought it was fitting to talk about it just after the holiday. Happy holidays form all of us here at 1951 Down Place! We'll see you next year!
Download 1951 Down Place: Episode #028 here!
Voicemail: 765-203-1951
Email: podcast@1951downplace.com
Twitter: http://twitter.com/1951DownPlace
Facebook Group: http://tinyurl.com/downplacegroup
All original content is licensed under a Creative Commons Attribution-NonCommercial-NoDerivs 3.0 Unported License.
Citations available upon request.