1951 Down Place #027 – The Devil Rides Out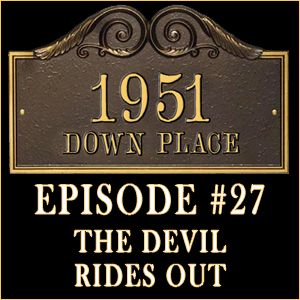 Saddle up, partners! This month, the Down Placers take a look at the 1968 Hammer film The Devil Rides Out (dir. Terence Fisher). This film was also known as its supposedly-sounding-less-like-a-Western-title The Devil's Bride when it was released in the US, but whatever the title, you won't find anyone playing cowboy in this film. Instead, you'll find Christopher Lee . . . playing the hero (even if he's not wearing a white cowboy hat)! In addition to talking about the film, Casey, Derek, and Scott also respond to some listener feedback that's been building up since last month. So mount up, and don't look the monster in the eyes!
Download 1951 Down Place: Episode #027 here!
Voicemail: 765-203-1951
Email: podcast@1951downplace.com
Twitter: http://twitter.com/1951DownPlace
Facebook Group: http://tinyurl.com/downplacegroup
All original content is licensed under a Creative Commons Attribution-NonCommercial-NoDerivs 3.0 Unported License.
Citations available upon request.