1951 Down Place #025 – The Stranglers of Bombay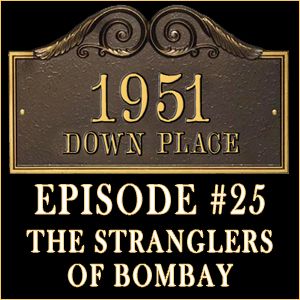 Do you feel it? That constricting feeling in your throat? Is it a fall cold coming on? Nope. It's just the Down Placers Casey, Derek, and Scott back in the latest episode of 1951 Down Place! This time around, they're watching 1959's Stranglers of Bombay (dir. Terence Fisher). Did the boys find this film easy to swallow or did they have a hard time breathing? Just listen to this episode to find out, and don't get too choked up yourself!
Download 1951 Down Place: Episode #025 here!
Voicemail: 765-203-1951
Email: podcast@1951downplace.com
Twitter: http://twitter.com/1951DownPlace
Facebook Group: http://tinyurl.com/downplacegroup
All original content is licensed under a Creative Commons Attribution-NonCommercial-NoDerivs 3.0 Unported License.
Citations available upon request.