Episode #020 – The Revenge of Frankenstein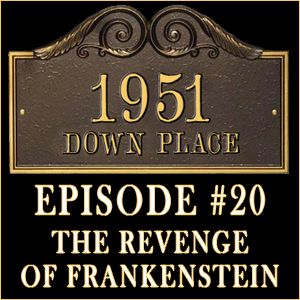 Baron Frankenstein is back . . . and so is Casey as the Down Placers dive into 1958's The Revenge of Frankenstein. Casey isn't the only Down Place regular rejoining Scott and Derek in this month's episode; director Terence Fisher, Hammer regular Michael Ripper, cinematographer Jack Asher, make-up artist Phil Leakey, and the indomitable Peter Cushing all return for this month's film. The movie has received mixed reviews over the years, but it sits solidly in Derek's Top Five list. How will it fare against Casey and Scott?
Download 1951 Down Place: Episode #020 here!
Voicemail: 765-203-1951
Email: podcast@1951downplace.com
Twitter: http://twitter.com/1951DownPlace
Facebook Group: http://tinyurl.com/downplacegroup
This work is licensed under a Creative Commons Attribution-NonCommercial-NoDerivs 3.0 Unported License.
Citations available upon request.