Episode #003 – The Hound of the Baskervilles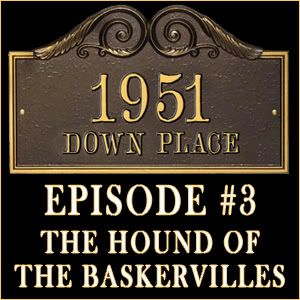 Can you guess what movie the Down Placers discuss in Episode #003 of 1951 Down Place? Why, it's elementary – it's 1959′s The Hound of the Baskervilles (dir. Terence Fisher). Casey, Derek and Scott discuss the film, their own (sometimes limited) exposure to the stories of Sherlock Holmes and how this film impacts their own view of Hammer's horror films. Additionally, the guys go over the monthly Feedback and they discuss how you can decide the film for a future episode.
(In the introduction to this month's show, Scott mentions Casey's Gothic Glamour segment in this episode. Due to time, this month's segment has been pushed back to Episode #004.)
Download 1951 Down Place: Episode #003 here!
Voicemail: 765-203-1951
Email: podcast@1951downplace.com
Twitter: http://twitter.com/1951DownPlace
Facebook Group: http://www.facebook.com/groups/307091012635991
This work is licensed under a Creative Commons Attribution-NonCommercial-NoDerivs 3.0 Unported License.
Works Cited
Asher, Jack. Little Shoppe of Horrors. Interview by Dick Klemensen. Magazine, Mar 1986. 92-97. Print.
Dalton, Tony. "Terence Fisher – Emotional Fairy Tales for Adults." Little Shoppe of Horrors. Sep 2007: 52-63. Print.
Fischer, Dennis. "Hammer's Hound of Horror: A Look at The Hound of the Baskervilles." Little Shoppe of Horrors. Mar 1986: 80-83. Print.
Hutchings, Peter. Terence Fisher. Manchester, United Kingdom: Manchester University Press, 2001. Print.
Kinsey, Wayne. "A-Z of Hammer Actors Part 6." The House That Hammer Built. Jul 2008: 303-346. Print.
The Horror of Hammer (DVD commentary). Prod. David Kalat. Image Entertainment, 2001. DVD
The Hound of the Baskervilles. Dir. Terence Fisher. Perf. Peter Cushing, André Morell, Christopher Lee, Marla Landi, David Oxley. MGM (Video & DVD), 2002. DVD.