Episode #014 – Frankenstein Created Woman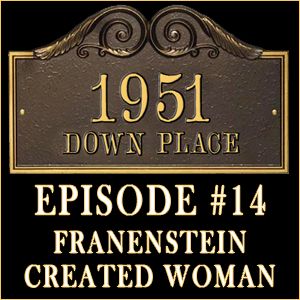 Happy Halloween, everyone! This year, the Down Placers spend one of their favorite holidays with their favorite doctor when they discuss 1967's Frankenstein Created Woman (dir. Terence Fisher). Casey lists this movie among his Top Five Hammer Films, and in this episode we'll learn if Scott or Derek enjoy the movie as much as he does, but at this point there shouldn't be any question as to whether or not ANY of the Down Placers enjoy the work of Peter Cushing.
Download 1951 Down Place: Episode #014 here!
Voicemail: 765-203-1951
Email: podcast@1951downplace.com
Twitter: http://twitter.com/1951DownPlace
Facebook Group: http://tinyurl.com/downplacegroup
This work is licensed under a Creative Commons Attribution-NonCommercial-NoDerivs 3.0 Unported License.
Stephen D. Sullivan: Adventure Guaranteed (Monster optional) – http://stephendsullivan.com/wordpress/
Works Cited
"Frankenstein Created Woman (1967) – IMDB." The Internet Movie Database.
Frankenstein Created Woman. Dir. Terence Fisher. Perf. Peter Cushing, Susan Denberg, Thorley Walters, Robert Morris, Duncan Lamont. Starz/Anchor Bay, 2000. DVD.
Larson, Randall D. Music From the House of Hammer: Music in the Hammer Horror Films 1950-1980. Lanam, MD: The Scarecrow Press, Inc., 1996. Print.
Meikle, Denis. A History of Horrors: The Rise and Fall of the House of Hammer. Lanham, MD: The Scarecrow Press, Inc., 2009. Print.
Neame, Christopher. Rungs on a Ladder: Hammer Films Seen Through a Soft Gauze. Lanham, MD: The Scarecrow Press, Inc., 2003. Print.
Pirie, David. A New Heritage of Horror: The English Gothic Cinema. New York, NY: I. B. Tauris, 2008. Print.